Netting for Pond Coverage and Bird Exclusion Needs, Custom Built to Order
The use of pond and bird netting is an effective way to protect fish and keep leaves out of the water. Fish are a valuable asset to any pond, whether they are kept for recreational purposes or as a source of food. However, predators such as birds, raccoons, and other wildlife can be a constant threat to the well-being of fish. Netting helps to deter predators and prevents them from reaching the fish. This protective barrier is particularly useful during the breeding season when fish are most vulnerable.
Leaf barrier netting can also be a useful tool in keeping leaves out of a pond. Leaves can be a significant problem for pond owners, especially during the fall months when trees begin to shed their leaves. When leaves enter the pond, they can decompose and create excess nutrients that can lead to the overgrowth of algae and other undesirable plant life. This can create an unhealthy environment for fish and other aquatic life. By using netting, pond owners can prevent leaves from entering the water, reducing the risk of nutrient overload and ensuring a healthy environment for their fish.
Overall, using netting over a pond can be an effective way to protect fish, block leaves from getting into the water, and improve the appearance of a pond. By choosing the right pond and bird netting material and installing it correctly, pond owners can ensure a healthy and thriving environment for their fish and aquatic life.
Koi Pond Protective Netting
Bird barrier netting is a crucial addition to any koi fish pond as it provides much-needed protection to the beloved fish from a range of threats. One such danger that koi fish face is from herons, which are known to prey on them. These wading birds are attracted to koi ponds and can quickly decimate a population of fish, leaving owners devastated. By installing protective netting, however, owners can ensure that their koi fish remain safe from heron attacks. The netting acts as a physical barrier, preventing herons from accessing the fish while still allowing owners to enjoy an unobstructed view of their pond. Additionally, protective netting can help prevent other predators, such as cats and raccoons, from preying on the fish, making it an essential investment for any koi pond owner looking to keep their fish safe and healthy.
Custom Netting Designs Built from Nylon Mesh
At Gourock.com we have many years of experience supplying our customers with customized netting designs that are built specially for their pond locations. In see cases the bird nets and leaf netting products are required at industrial sites, for example retention ponds at mining operations, airports, or public works locations. And in many instances the pond and bird netting designs we ship out are meant for private residential properties – especially for koi ponds. Most every pond location features a completely unique set of sizing requirements and dimensions for bird net coverage, and at Gourock we offer you premium nylon netting materials that are prepared to your own customized sizing requirements. Pond nets that are custom built allow for optimized fit and function, which not only has the most appealing visual appearance but also maximizes the protective abilities of the netting while in use.
A great product selection for pond and bird netting is Gourock's #12 X 1″ DuPont® Type 66-728 Twisted-Knotted Nylon Netting. It features a very functional protective mesh size opening of 1″, which is a fantastic deterrent for predatory birds, herons, animals, as well as for blocking leaves and debris. In addition, the nylon twine has a high tensile strength characteristic – which results in a net that is relatively thin in appearance and physical weight, while maintaining very dependable durability. And finally, the #21 X 1″ nylon netting also incorporates an extra resilient weather and moisture coating that enhances its longterm resiliency to UV and moisture exposure. This nylon netting selection is perfect for pond netting and leaf barrier net needs, and is custom prepared to match whatever dimensions or sizing you require for your location.
Recent Custom Pond Netting Example
Over the last few weeks we have shipped out some unique custom pond nets for different bird barrier and debris exclusion projects. Many of them are built to specified square or rectangular area sizes, but there also have been some pond nets that are more specifically tailored to some very custom shape needs. Here is a recent example of a pair of koi pond nets that were constructed according to the very specific shape and size dimensions required by Gourock's pond netting customer. He had 2 different levels of his private residential koi pond, and needed to protect his koi fish from herons and other predatory birds in the region. The material used for this netting project was the #12 X 1″ square mesh twisted-knotted nylon, with a sewn-in 5/16″ polyester rope bordered perimeter edge. Our customer's intention was to use custom nets that would accurately fit the unique outer shapes of his pond areas, in order to have a nice professional appearance and to properly protect his fish from birds and leaves.
As you can see from the netting production drawings below, this pair of nets were both quite unique – and incorporate some pretty precise measurements and shape features. The usage of square mesh pattern netting is beneficial for nets that are being installed horizontally, due to a square mesh pattern being able to maintain a decently level and flat result. And the 5/16″ rope bordered perimeter edges provide a huge amount of strength and resiliency for making dependable connections to the surround points of attachment. These nets were completed and ready to ship out in about one working week from the date of order, and shipped directly to our customer via UPS Ground.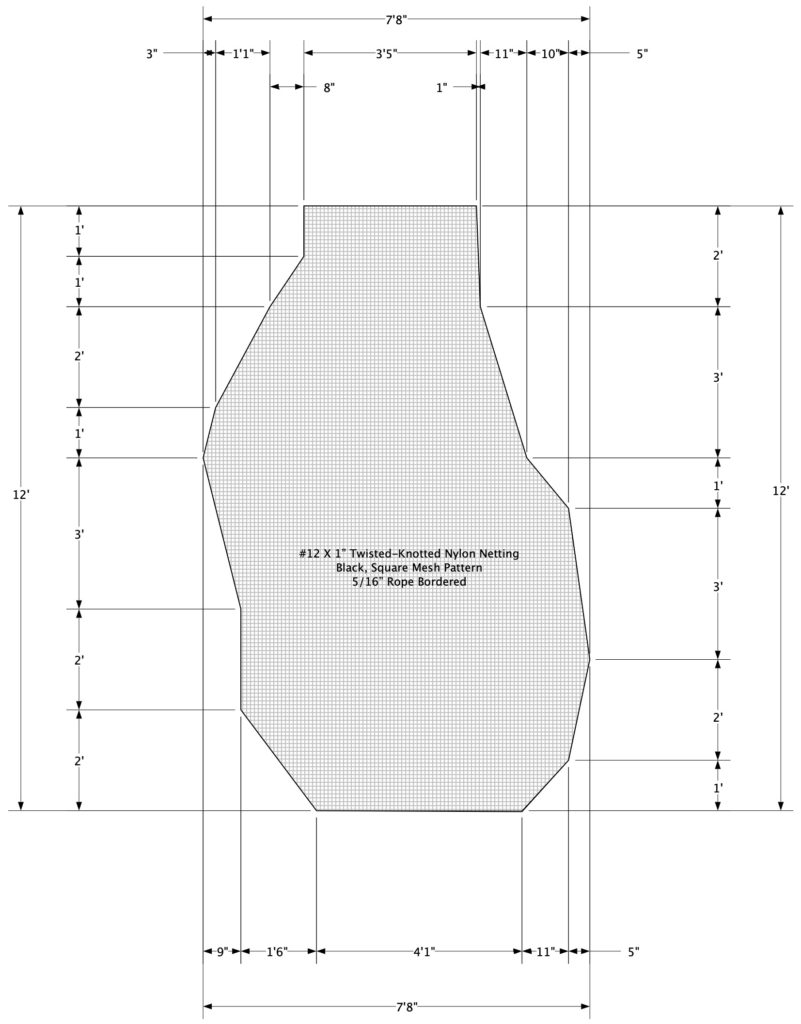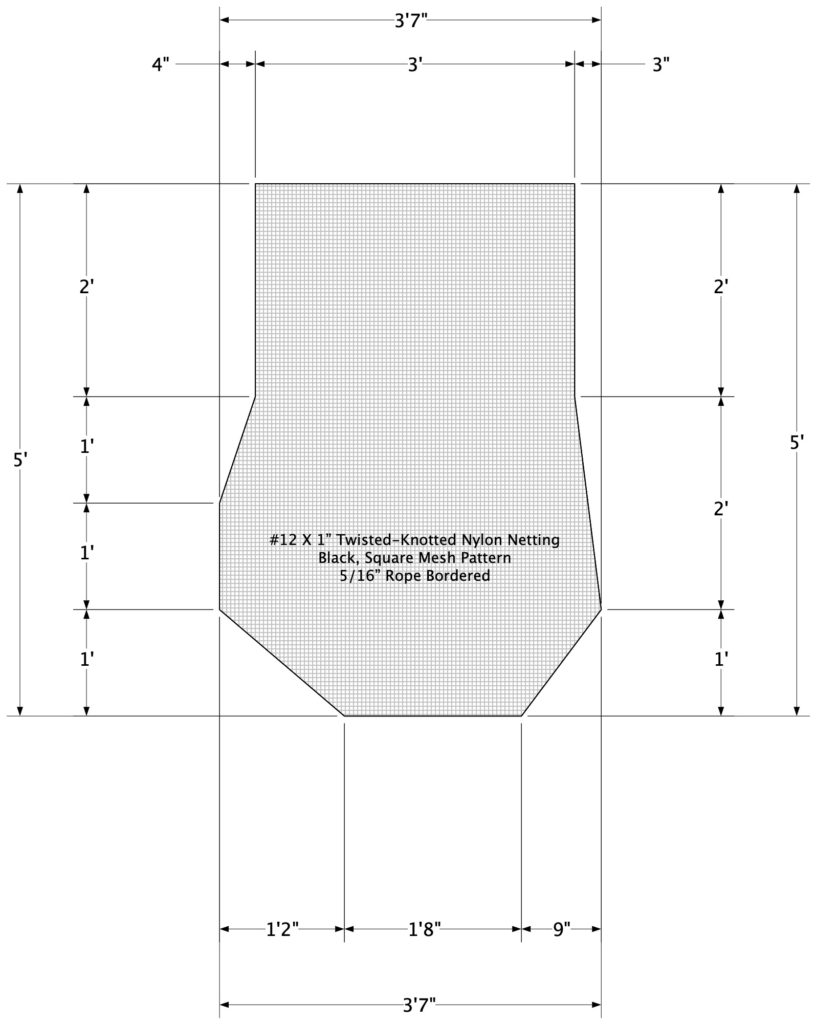 Many thanks again to all of our custom netting clients and customers! It is our pleasure to be your trusted and dependable netting supplier, and we appreciate your business very much!
– Josh Grzyb @ Gourock Custom Netting