Custom Netting Designs and Nylon Nets with Notches and Shape Features
At Gourock.com we consistently supply netting productions and nets that are constructed to customized sizes and dimensions. As a specialist firm dealing in high-quality custom netting, we have provided thousands of unique nets with individual sizing and shape features. Netting is a fantastic solution for a huge variety of different needs and applications, with uses spanning across dozens of popular industries and markets. At Gourock.com, we offer 100% Made in USA nets that are built per-order according to your own particular sizing necessities, and they are available directly online through our Online Custom Netting Calculator. As an expert in e-commerce netting supply for the last 20 years, you have immediate access to premium nets, netting productions, and mesh materials – direct to your door.
We have availability for a few different types of netting materials, with an emphasis on the highest-quality DuPont® Type 66-728 Twisted-Knotted Nylon Netting. Gourock.com features a large selection of netting mesh sizes and twine thicknesses, so you can source the best net choice for your project – and have the nets prepared to whatever specific sizing you prefer to be working with.
In addition to nylon netting panels that are constructed to rectangular/square sizing, we also have options to further customize the nets to incorporate more specific or particular shape features as well. For instance, there are many different situations in which the final netting product needs to have a notched-area, cut-out area, or other similar sort of shape design built. The reasons for these sorts of notched-designs are to account for some sort of object, door, structure, or other similar impediment that is in the area of intended netting coverage. With Gourock.com you can have the netting built to accommodate these sorts of situations, allowing you to achieve the best fit, function, and appearance of the completed netting installation.
Here are four recent examples of some of the custom nylon netting panels that we have shipped out to some of our customers, including a bit of context on what type of netting was used and what the intended purpose of the netting and notch features are. All of these nets were constructed from the twisted-knotted nylon netting, 100% Made in USA, and produced to be ready to ship within one business week (each). If you have questions or inquiries about custom netting, or to be quoted on a netting project you have in mind, please feel free to contact us directly at Gourock.com and we can assist!
Example 1:
This is a custom net that is 5′-11″ X 9′ with a corner notch area that is 2′-8″ X 2′-10″. The netting type used for this product was the #72 X 1-3/4″ knotted nylon, provided in a diamond mesh pattern, with a 5/16″ Dacron® rope bordered edge. The notch design in this net was needed so that the netting could be installed within an empty space around a door area within a framing structure, and the netting is intended to block and contain baseballs and softballs.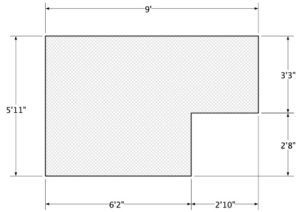 Example 2:
This is a custom netting design that is 15′ X 15′, with a central notch area in the middle of the bottom edge that is 6′ X 2′-6″. This custom netting panel was built from #21 X 1-3/4″ knotted nylon, prepared in a square mesh pattern, and perimeter bordered with 5/16″ Dacron® rope edging. There were 2 nets of this sizing and shape produced for our customer, and the netting was intended for use in an outdoor art exhibit, in-which the notch area is being used as an entrance portal through the space.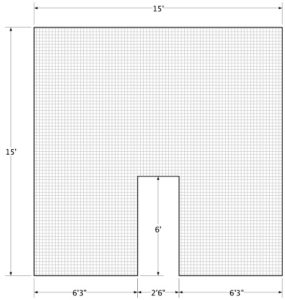 Example 3:
This is a custom netting design that was built for one of our clients at an indoor soccer facility, and they use barrier netting to contain errant soccer balls from leaving the playing field. This netting design is 11′ X 55′ with a central notch area that is 2′ X 9′-10″, in order for the overall netting panel to properly fit over the top of an entrance door that they have. The netting is the #30 X 4″ knotted nylon, built in a square mesh pattern, with the 5/16″ rope bordered edge around the perimeter – and there were 2 of these nets shipped out to the location.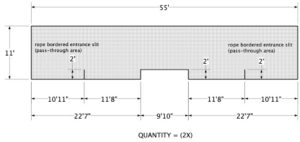 Example 4:
This custom netting production is 9′-6″ X 17′ in overall sizing, and has a built-in corner notch feature measuring 1′-2″ X 3′-7″. This netting panel was constructed from the #21 X 3/4″ twisted-knotted nylon netting, with a 5/16″ Dacron rope border on the top and side edges, and a weighted-rope bottom edge sewn-in. This netting is being used as a golf and multi-sport impact net in an indoor residential location, and the notch is there so that the netting panel accounts for a heating vent that is running through the space.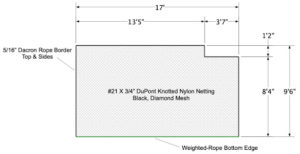 Many thanks to all of our custom netting customers and clients! We appreciate your business very much, and it is our pleasure to be your custom netting source!
-Josh Grzyb @ www.gourock.com