Slow Feeder Nets, Hay Bale Netting, Horse Feeder Nets, Hay Restriction Netting
Custom Nets for Hay Slow Feeder, Hay Restriction Netting, Slow Feed Netting, DIY Slow Feed Nets, Hay Bag Netting
https://www.gourock.com/slow-feeder-hay-netting.html
Hay slow feeder netting is available to be prepared to your own preferred custom dimensions, which can be entered into Gourock's online custom netting calculator. Nets and mesh for hay slow feeders, hay bale netting, DIY slow feed netting, hay restriction netting, hay bag netting, and horse feeder nets. There are several recommended netting types and sizes used for slow feeder netting purposes, all of which are available according to your own custom sizing, and various netting twine thicknesses in most mesh sizes.
1-3/4" mesh size knotted nylon netting is very popular for slow feeder and hay bale cover applications, with the #36 twine thickness being most typically selected. We also offer a thinner #21 twine net for lighter-abrasion hay feeder uses, and a heavier #72 twine for extra heavy-duty slow feeder netting uses.
1" mesh and 3/4" mesh size options are available for highly restrictive slow feeder net uses. The #26 X 1" knotless nylon netting and the #21 X 3/4" knotted nylon netting are both popular for small mesh hay feeder uses for maximum hay restriction, and for smaller animals like goats and mini-horses.
We supply netting according to any particular dimensions that you want to be working with, so you can source slow feeder netting prepared to whatever area you need to cover round bales, square bales, loose hay, or within hay bale shelters. Our netting and mesh for DIY slow feeder nets are conveniently available to any square footage and quantities you may need for your particular hay application – and we also offer spools of nylon lacing twine and lengths of 5/16" polyester rope on our Hardware/Accessories page for DIY hay feeder nets.
For customized shape requests, sizing and supply questions, slow feeder netting quotations, or other particular hay slow feed net inquiries please feel free to Contact Us and we can assist!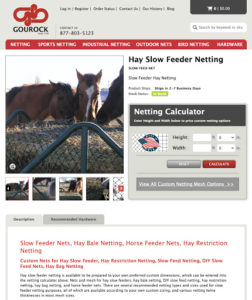 -Josh Grzyb @ www.gourock.com