Containment nets and exclusion netting built from heavy duty nylon mesh for high abrasion barrier and safety applications.
For many industrial sites, municipal locations, and commercial business locations there are needs for barrier nets and exclusion nets that are often subjected to a high level of abrasion and friction over time. Heavy-duty netting materials are supplied by Gourock.com for our customers that have safety netting requirements that need to account for a lot of wear-and-tear from impacts and abrasion, as well as exposure to the outdoor environment. Dependable barrier nets that can be counted on for longterm durability require a high quality netting material to be used for these sorts of applications, and Gourock.com specializes in supplying such netting products. Ranging from public municipality locations, to high intensity industrial sites and busy commercial operational areas – the barrier netting needs of these clients depend on strong twine and robust mesh productions.
Over the last 20+ years, Gourock has been a trusted source for dependable barrier netting, including barrier nets that are intended for heavy duty needs at high-traffic areas. We can facilitate most any dimensional or sizing requirements needed, and have great material options for a variety of unique projects and netting uses. Many of the barrier nets that we supply incorporate different custom production features that are requested by our industrial clients, in order for the netting to provide the best possible function for their needs. Primarily specializing in custom net productions that are built from DuPont® Type 66-728 Twisted-Knotted Nylon Netting, the netting products available from Gourock.com are 100% Made in the USA with expert craftsmanship and fast turnaround times. We have experience supplying premium products to hundreds of different industries and uses, so most certainly have some great insights into the best mesh and twine selections for you to consider using for your heavy duty netting installations. We conveniently offer immediate online order of custom netting panels directly through the Online Custom Netting Calculator, and we also provide quotation services for your specific inquiries as well – so always feel free to get in touch with Gourock and it is our pleasure to assist.
To help demonstrate some of the different custom netting productions that we have supplied over the last several weeks for heavy-duty barrier and protective net needs, here are 4 examples that may help provide some context into the netting options that are available for your consideration. All of these examples were facilitated via one-on-one customer service and quoting services, and they each incorporate some customized construction features that provide the best possible product for the project needs. Each of these following examples were done with the DuPont® knotted nylon netting, and they were produced specifically for our customer's sizing requirements and fabrication needs.
In example #1 you can see a series of netting panels that are constructed to a variety of different lengths, and all at a 10′ height. These nets were to be installed at a sports court location that required heavy duty mesh to contain ball impacts at a high-traffic athletic location. The netting used was the #36 X 1-3/4″ square mesh twisted-knotted nylon, and there were also a series of interior rope riblines incorporated into the netting panels in order to line-up with some of the vertical poles surrounding the site. We also shipped out all of the aircraft cabling and associated rigging hardware items that were to be installed between the structural poles as well.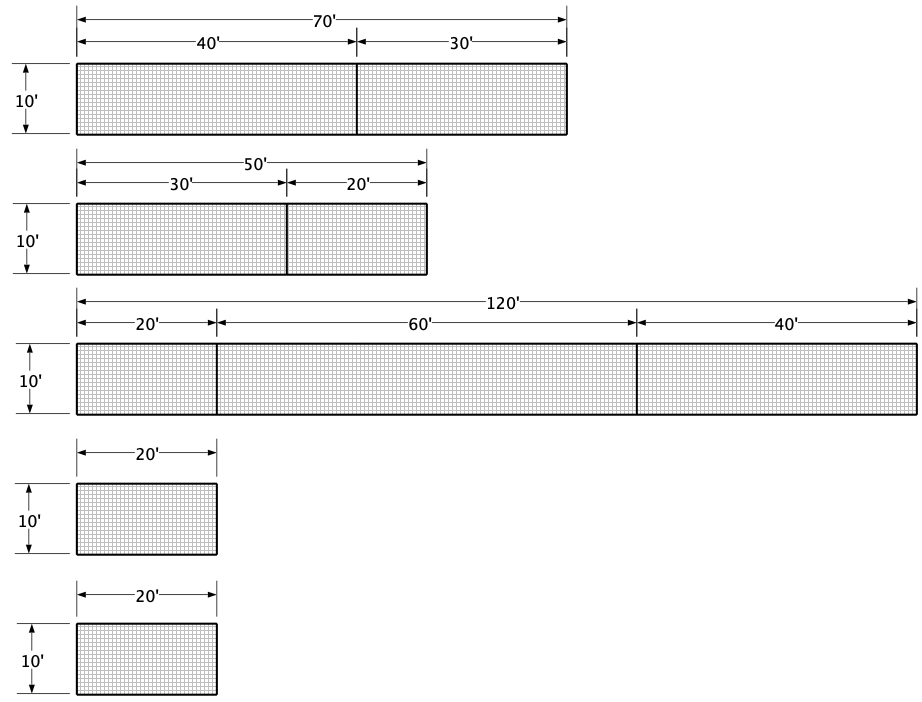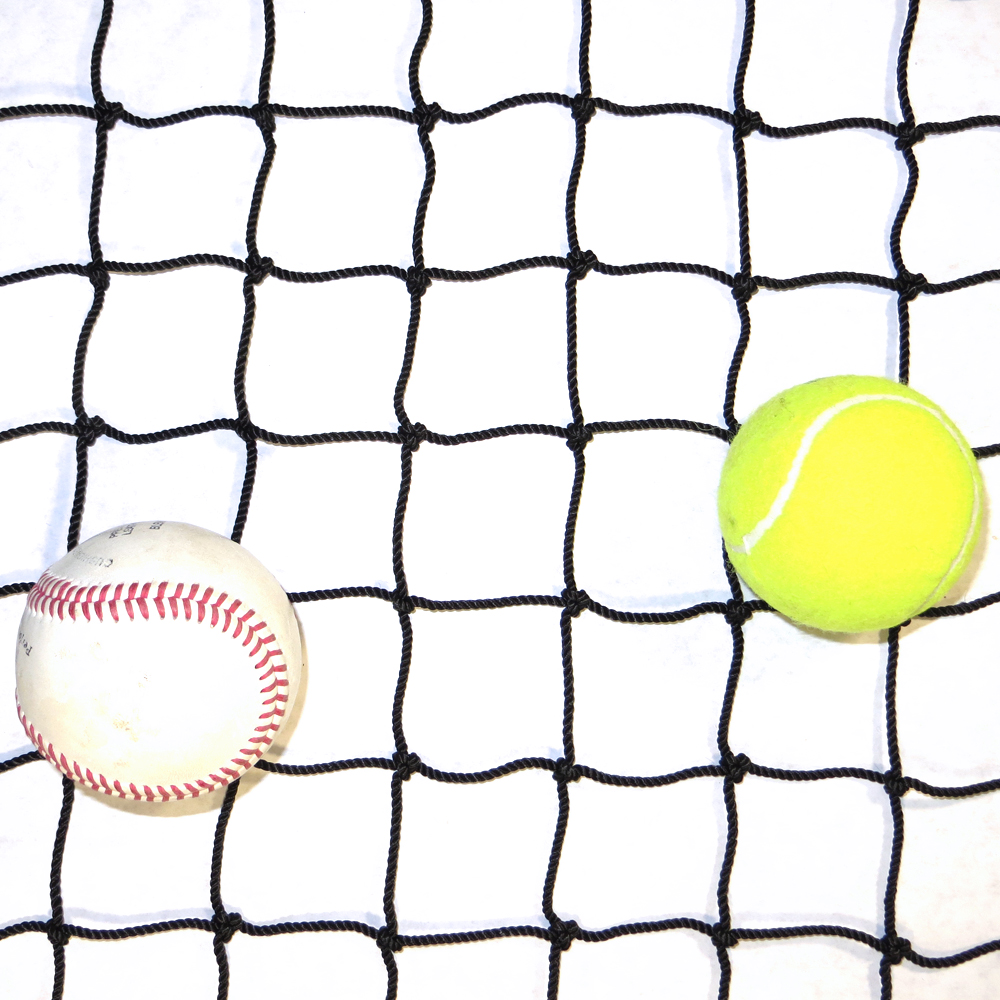 In example #2 you can see a series of nets that were also constructed from a square mesh pattern twisted-knotted nylon netting, with 5/16″ polyester rope bordering. Also in this case there is a vertical rope ribline located on a couple of the nets, specifically requested by our customer. These netting panels were built from the #72 X 1-3/4″ nylon, and were built for a discus and hammer throw cage that was being installed at a municipal location.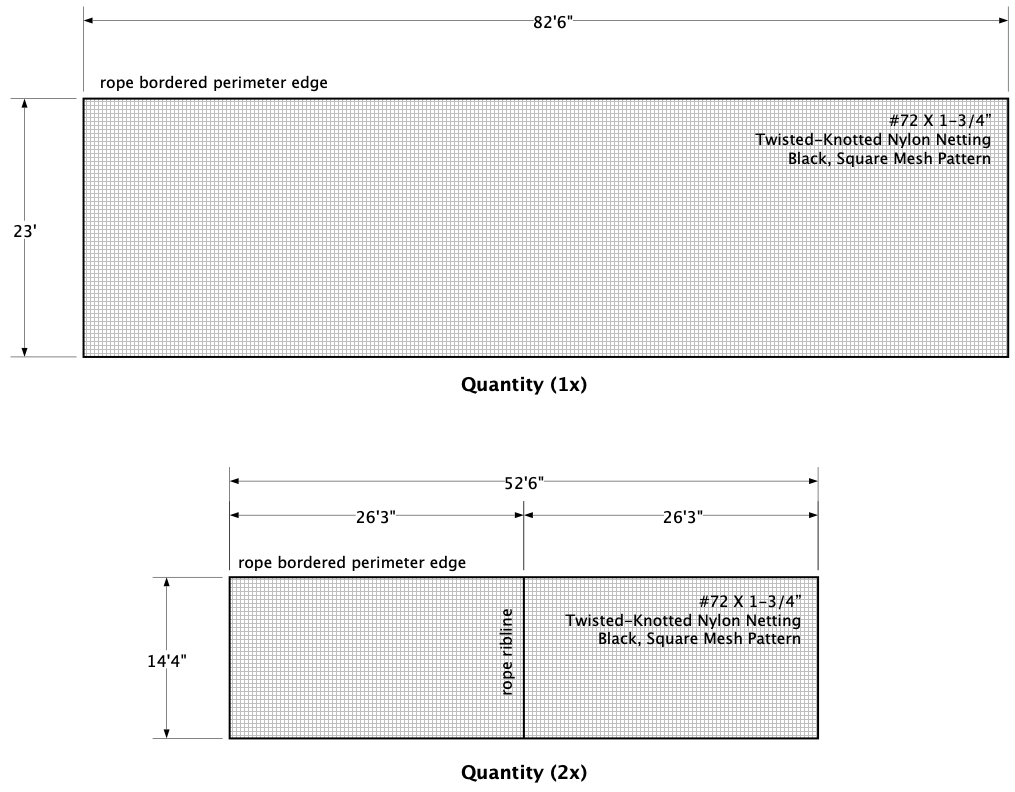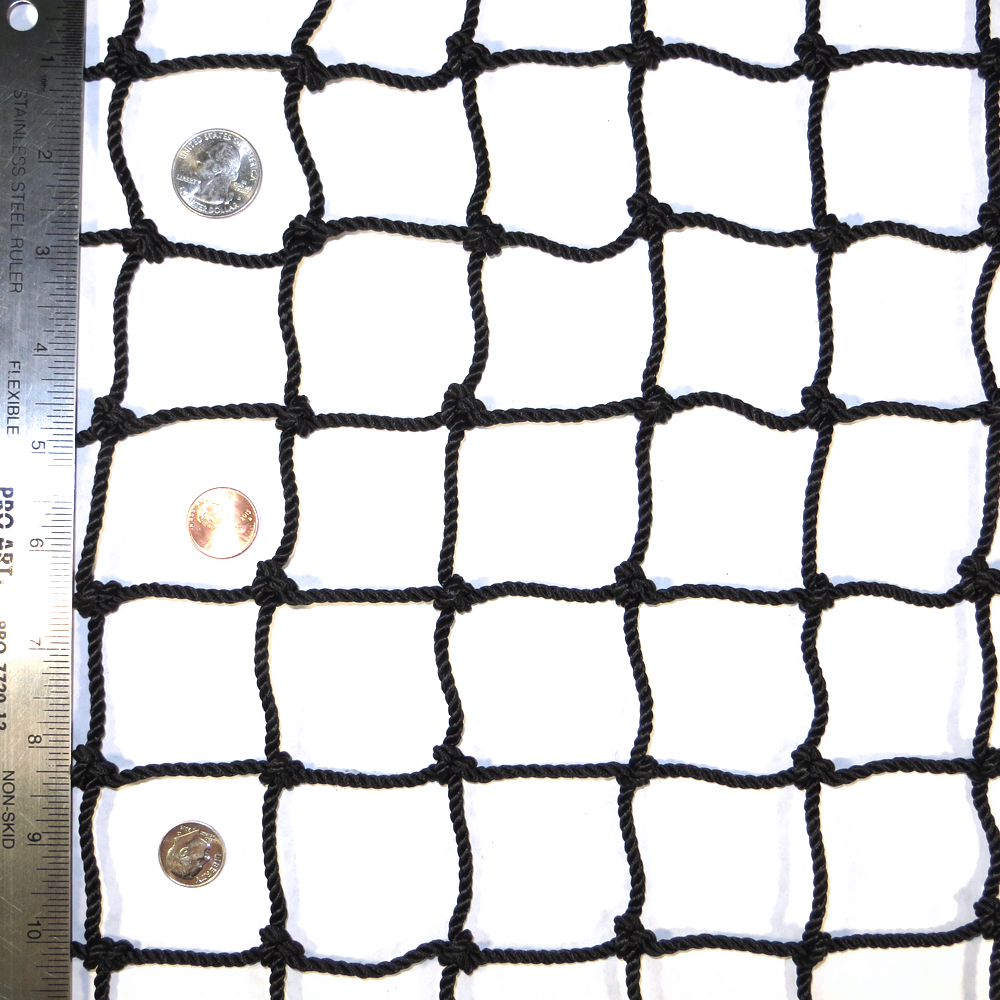 And then shown in these following examples 3 & 4, these barrier nets were constructed for an industrial site that required exclusion netting to surround portions of the area to block people and objects from entering the space. These nets were constructed from the #36 X 1-3/4″ twisted-knotted nylon netting in a diamond mesh pattern, with 5/16″ polyester rope bordered edges around the perimeter edges – and were clipped to a series of tensioned cables that they had spanning between large steel posts. There were also some steel cables running through the middle of each area that the netting was to be covering, so these custom nets also incorporated a horizontal rope ribline through the central part of the mesh to line-up with that cable. In addition, our client requested 2″ steel rings to be installed on the corners of the nets, which was beneficial to their installation techniques and plans.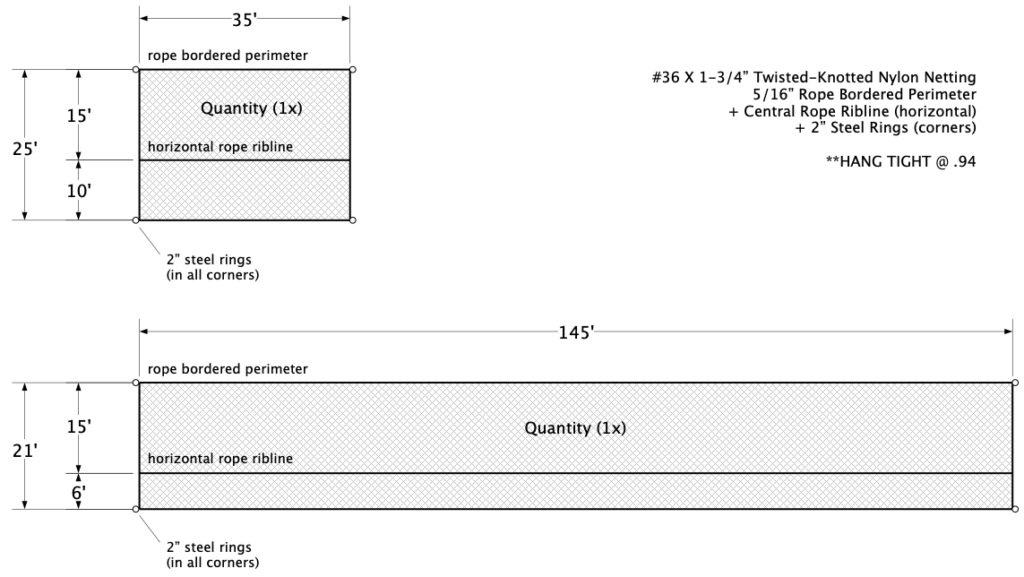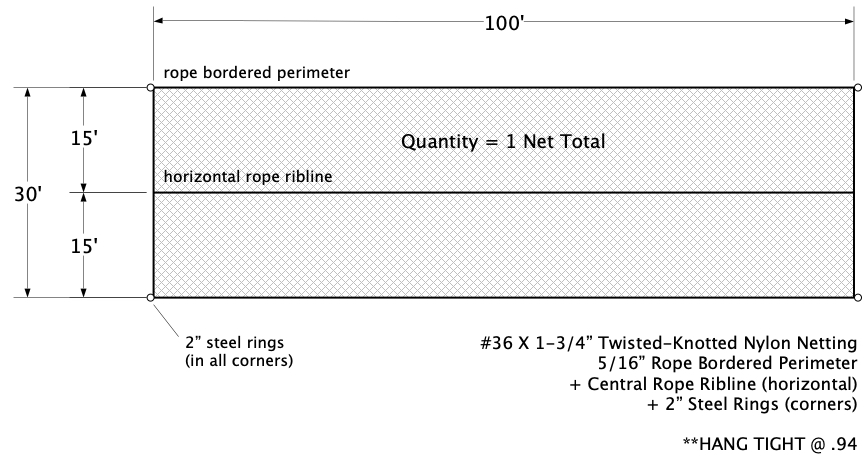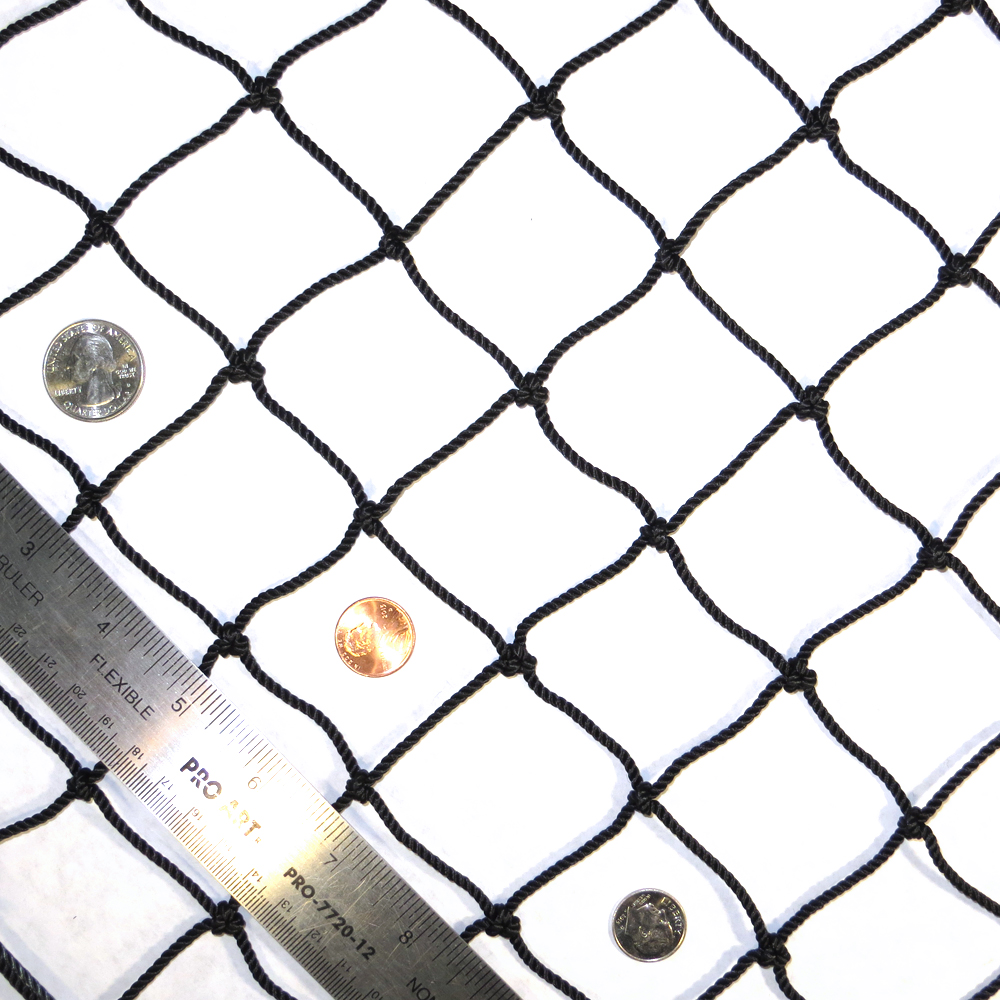 Many thanks again to all of our very appreciated heavy-duty nylon netting customers and clients, we appreciate your business very much! It is our pleasure to be your trusted netting supplier, and we always look forward to facilitating your barrier netting needs!
-Josh Grzyb @ Gourock.com Netting